Two Professional
Print-Making Collections for Decor or Business!
Volume 1:- 200+ RARE ANTIQUE BLACK COLLECTIBLE COVERS TO PRINT & SELL!
PRINT, frame and sell historically important, authentic looking 10x8"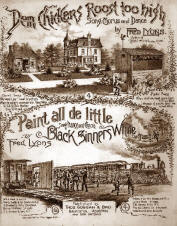 Black Collectible Song/Music Sheet Covers from the Turn of the Century. This recently expanded Volume 1 cash-making image collection on disc now contains 200+ beautiful ready-sized, rare period covers in full colour, already re-touched and perfect for printing and framing reproductions.
The file sizes are large, averaging several hundred K each, and the disc contains minimum-compression .jpg images designed for print-making and suitable for all systems (see Volume 2 below).
ALL YOU NEED IS A PHOTO QUALITY COMPUTER PRINTER!
We have done all the long hours of work for you by retouching and optimising these antique images specially for printing and have converted them into large image files for you to create and frame your own Beautiful Prints directly from an inkjet or similar graphics Printer.


EXTRA -This week we are also including TWO Free money making extra bonuses in Vol.1:
1. A collection of 40 superb, restored 'minstrel' type flyers/ads. to print too. Image file sizes up to 8mb each.
2. A selection of rare antique photos of black nursemaids with white babies for collectors.

PLENTY of scope for Print Retailing - without the copyright problems associated with other compilations - or a great addition to a collection. See image examples at top. NOTE: Certain titles from this historical era may cause offence.

Just one print sale quickly recoups this fine collection's modest cost!


Order Vol.1 Below


Real or Reproduction?

A GREAT deal of studio work has gone into restoring and enhancing these quality lithos for creating & selling truly authentic looking repros. Not to be confused with standard low-res small un-restored image compilations with copyright restrictions. There's a difference!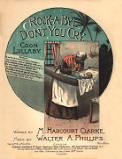 THE LEGAL STUFF: Please be sure to review the Terms of Use of this and our other business compilation CD's, plus general info, by clicking on the link.
* Complete Packages...
THIS set can be bought alone or you can go the whole hog with a Complete Business Package comprising your choice of 5 or more mixed collections at a big wholesale discount for making

thousands of authentic looking prints full-time. The special wholesale package now also includes our 22-page 'Quick Start Guide' on disc to help launch your business plus Free images too... Details Here Prices Here.