Timecamera - Restored Antique Prints & Vintage Photos for Professional Print Makers


Edwardian Photochrom Image Collections on Disc

FOUR c1900 PHOTOCHROM
COLLECTIONS!

Supplied in both enhanced .jpg and giant .tif formats
on the same Computer Data-DVDs!

Copyright 2006-16 Timecamera.
REAL OR REPRO? WITH OUR ENHANCED MASTER IMAGES -
PLUS A COMPUTER PRINTER - IT'S HARD TO TELL THE DIFFERENCE!
THESE computer business DVD-Roms are hot sellers. You can select any of the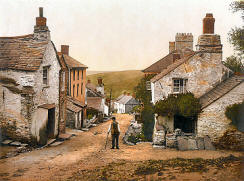 several photochrom collections described below to start a business selling authentic looking prints (all you need is your computer printer), or to form part of a pro Complete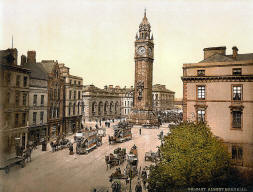 Business Package for a full-time work from home income.
We also have a giant 9-DVD expansion set featuring hundreds of c1900 England photochroms if you are feeling ambitious!
Tremendous Sales Scope
The collections comprise many Turn of the Century colour Photochroms of towns and famous locations and the prints have proved consistent sellers during our test-marketing (one sales-trial example is outlined on the Seaside Scenes page). They also offer tremendous additional sales scope for wholesale marketing through gift stores, historical societies - or targeted sales to businesses, offices, houses and hotels in the various locations seen in the images.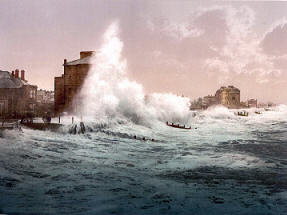 TWO FILE FORMATS SUPPLIED WITH EACH COLLECTION
Each collection comes with two file formats for a wider choice - minimum compression .jpg and also large (average 30mb) .tif scans. The .jpg images are all ready enhanced/retouched for standard

computer printers, sized generally at 7x10 inches or 8 x10 inches. The larger, un-restored original 'tif scans supplied can readily be reduced in size by the user to approx 8x11 in. at 300dpi if desired for larger format printers - or indeed reduced in size further for higher resolution 10x8's.
Timecamera Photochroms are the Highest Quality on the market...

Don't forget to visit our European Street Scenes
and American Street Scenes pages too.
Excellent Detail


Detail above is taken from the 10x7in antique print on the left (from the smaller, enhanced jpg file supplied). The un-restored 'tif scan also included is larger.

PRINT AND SELL AS MANY AS YOU LIKE!

As with all our master files you can print as many as you like for sale but you may not copy the coded digital files themselves. Our images are copyrighted and monitored for legitimate use purposes.
See Terms of Use Here

See Example Photochroms Here
| | |
| --- | --- |
| Five Regional Collections! | (Purchase at Bottom of Page) |
Photochrom Regional Collection #1 (2xDVD Set) :-
| | |
| --- | --- |
| | WALES A fascinating compilation of approx 165 colour photochroms from the Turn of the Century. Comprises both enhanced min. compression .jpg's, plus big .tif scans on the same 2 x DVDs £10.50. See Here for picture examples. Note: 2xDVD sets still count as one title choice for our Package Deals. |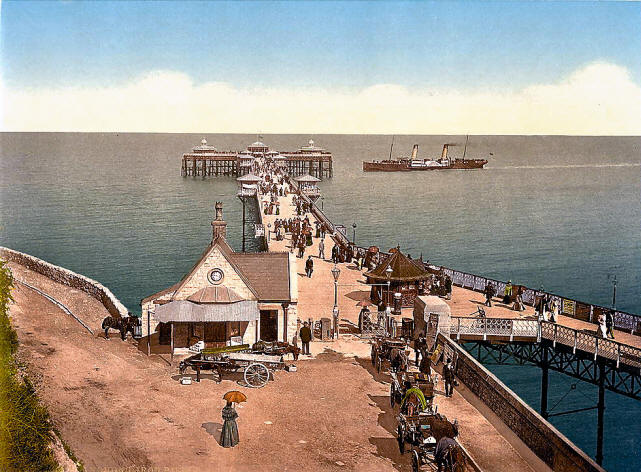 Above: Iron Pier at Llandudno, Wales. Printed at A4 size this would be very high resolution at approx
400dpi while at 9 x 12 inches it would remain high resolution at 300dpi. Enlarge (or reduce) to suit.

Photochrom Regional Collection #2 (2x DVD Set):-
| | |
| --- | --- |
| | SCOTLAND A great compilation of approx 182 colour photochroms from the Turn of the Century. Comprises both enhanced min. compression .jpg's, plus big .tif scans on the same 2 v DVDs £10.50. See Here for picture examples. * SEE ALSO our new collection 'Scotland The Engraved' Here |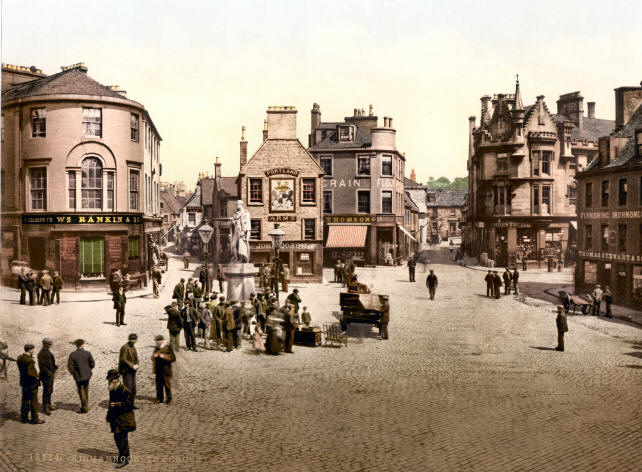 Above: Kilmarnock, The Cross. Images are supplied very high resolution at approx A4 size printing at
400dpi while at a larger physical size of approx 9 x 12 inches the resolution still remains high at 300dpi,
offering scope for even bigger enlargements - a boon for all large format printer owners.

Photochrom Regional Collection #3:-
| | |
| --- | --- |
| | IRELAND Approx 120 early colour photochroms from the Turn of the Century. The collection includes both the North and the South (undivided at the time). Supplied in both .jpg and .tif formats on one DVD. £10.50. Examples Here. |

| | |
| --- | --- |
| | PLUS Added bonuses are now also included such as a selection of 30 vintage St Patrick's Day greetings cards to print. Also a selection of 40 Sepia Street Scenes plus surprise bonuses! |


Above: Royal Avenue, Belfast




Several of the collections now include a Free Bonus:- Complete scans of related antique books...
Scotland:
'The History of Scotland Vol.1' c1899, 449 pages; 'The History of Scotland Vol.2', c1912, 494 pages.
Ireland:
'History of Ireland Vol.1' & 'History of Ireland Vol.2'. c1910. These two volumes total some 1,000+ pages,
PLUS two beautiful scenery books.
Wales:
'The History of Wales'
c1774, 500 pages & 'Wales' by Owen Edwards c1901, 456 pages.
The books, which can be used for either research or interest only purposes, are presented in handy Adobe Reader format (.pdf files). The reader is installed as standard on most computers but can also be downloaded free from Adobe.

See also our Seaside Scenes Photochroms Collections Vols. 1 & 2
---
SEE HERE FOR GENERAL PHOTOCHROM INFO & SAMPLE PICTURES!


* Note:- 2xDVD Sets still count as ONE title choice for multi-title package deals.



Sales Terms / Ordering

Dealers/sellers please also be sure to see General Info & our Terms of Use
Mix 'n match Quantity Pricing also available.
Price:-
£12.50 each collection (US$15.00 approx)

PAYMENT:- Instant & secure Paypal payment, or use a credit/debit card.
SHIPPING:- Discs Shipping & Handling is FREE Worldwide this month!


WALES COLLECTION (2 x DVD) £12.50 FREE SHIPPING
SCOTLAND COLLECTION (2 x DVD) £12.50 FREE SHIPPING
IRELAND COLLECTION (1 x DVD) £12.50 FREE SHIPPING
Sales Terms


If your computer does not accept cart cookies you may use
these instant payment buttons...
1. In common with other graphic image publishers we are not able to offer sale or return facilities.


2. The contents of each CD/DVD are detailed throughout the site and each contains the numbers of images shown included for each subject but this may not equate with a full disc capacity.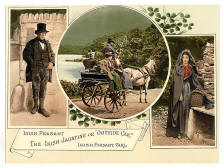 3. Customer details are kept confidential and privacy is respected. Please advise at time of ordering if you do not wish to receive details of similar compilations if they become available.
4. Purchasers agree not to misrepresent reproduction prints or photos as Originals, either deliberately or by simple omission, and absolve Timecamera.com of any liability arising thereby.
5. We reserve the right of refusal to supply and/or to change prices without prior notice.
6. Purchasers may not copy or distribute the images or CDs/DVDs, agree to read the Terms of Use and by placing an order are deemed to have accepted them and agree to abide by them.
7. A purchase is for the supply of goods only and does not include the right implied or otherwise to business and/or marketing advice and should any be offered it shall be in good faith only.
8.
Images should be transferred to a hard drive immediately upon receipt. Any disc found to be faulty at that time will be replaced but we cannot be held liable for any mechanical fault, damage or loss arising from the use of the media or for its long term viability.

9. Note the return provisions of the Distance Selling Regulations do not apply to CDs, or DVDs of image software.
10. We advise all images should be transferred to a hard drive upon receipt and the disc should be kept as a back-up.
11. Sales are for the use of the images and in accordance with 10 above please note that packaging and labelling is kept to minimum cost to help maintain the current low pricing levels.

12. Any free bonuses offered with the image collections are offered as an incentive only and do not come with rights attached. They do not form part of the actual purchase and its licensing agreement and are for personal use only except where stated.
---
C. & M.A. Smith -
Timecamera.com
Timecamera.co.uk
PrintnSell.com
Collectaprint.co.uk
e-mail info@timecamera.com
---
© Copyright 2006-17 C.& M.A.Smith/Timecamera. All prints and photographs featured on this site are the result of extensive restoration work and are protected Internationally under strict Copyright Law. No images or written text shall be reproduced without our express written permission. Sales are offered on the basis that the images shall not be misrepresented or sold onwards as originals.