Powerful Imagery
Capturing
a Variety of Different Moods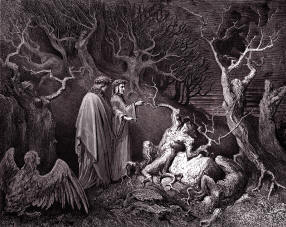 This business compilation features a great mixture of well-known images in minimally compressed .jpg format, from medium up to high resolutions (ranging between 225-270dpi at a big physical print size of 10x8inches). They're suitable for all systems and can be printed using a standard A4 photo capable computer Printer.
CREATE GREAT PRINTS
USING A COMPUTER'S INKJET PRINTER!

The collection includes an important series (135 images) of medium to high resolution, restored and enhanced, unique, slightly tinted engravings scanned from a private collection and supplied pre-sized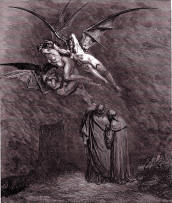 for A4 printers but capable of up-sizing (for the higher resolution images) for those with larger format capabilities. A wonderful range of moods is included featuring the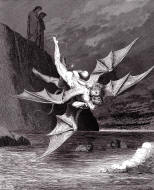 sinister and macabre range from the 'Inferno' series to sombre and wistful scenes from 'Purgatory' to the more cheerful and hopeful mood evident in the 'Paradise' series of illustrations, as perceived by Dante.
We also include a text file containing a reference to each illustrations and an extract from the poem to accompany them by way of captions. Most of the images are multi-

megabyte in size, hence the need for a DVD data disc to hold this artistic collection (also available on Donload). The 'Divine Comedy' is considered to be the last great work of medieval literature and also the first great work of the Renaissance.

Print Sales, Interior Design or Theme Decor....

These

are irresistible Print buys to collectors, for theme decor and to interior designers. When framed either singly or in groups the prices they fetch can be particularly high. There are also a host of other uses for art/graphics projects but, for Print sales, this restored series of engravings is sure to find many customers.


BONUS 1: ALSO now included for personal use is a version of The Divine Comedy of Dante translated by the Rev. H. F. Cary. We have converted this into .pdf format, used by Adobe Reader which is standard on most computers or can also be downloaded free.


WE have done all the work for you by retouching and optimising these antique images specially for making authentic looking repro period engravings and have converted them into large digital files for you to create

and sell your own Beautiful good sized prints directly from any standard size photo quality computer printer. The collection is an essential addition to any professional reproduction Print Making image range.
---

BONUS 2: We are also now including on the disc twenty additional rare antique engravings by Dore (including a selection of large format examples) to make wonderful prints that you can sell. Don't miss this great free bonus!

---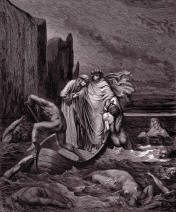 Restored & Enhanced
A GREAT deal of studio work has gone into uniquely restoring and enhancing these images for creating & selling Prints. Not to be confused with low-res, un-restored tiny image compilations.
1. All images are Restored. 2. All images are Enhanced for Digital Print Making. 3. All images are chosen for Print Saleability. 4. All our vintage images are copyright-safe for making Repro Prints.

THE LEGAL STUFF: Be sure to review the Terms of Use of this and all our other business compilation disks - plus general useful tech info - by clicking on the link above. The sale includes Print selling permission of these public domain images but not the right to copy or distribute the disk or digital files of our unique scans and restorations.
THIS set can be bought alone or you can try a Complete Business Package comprising your choice of 5 or more mixed image collections at big wholesale discounts. Make thousands of authentic looking prints full-time. The wholesale packs now also include our 22-page 'Start-Up Manual' on disc to help launch your business plus several valuable Free Gift image collections.