Timecamera - Uniquely Restored Antique Prints & Vintage Photos for Professional Print Makers & Antique Dealers


High Resolution, Antique Prints of
Fishes & Aquatic Animals


Uniquely Retouched & Enhanced Images!


* All Images High
Resolution 300dpi

---

* Large Size Prints:- 10in+ physically on the longest side!

---

* 225 Different Restored Images

---

* Ideal for Sales
or Personal Decor













A wonderful high-resolution print-making image collection suitable for a host of commercial or non-commercial uses from repro print sales to personal decor. The collection comprises some 225 different restored and enhanced antique fish and sea life illustrations selected from several rare 19th century illustrated book series (see bonus, right).

Large Size High Resolution Images

The 225 illustrations are all at least 300dpi and are supplied pre-sized to make prints instantly with standard A4 printers (or easily enlargeable to bigger sizes if preferred). Supplied in minimally compressed .jpg format they are over 10 inches on their longest side.

Extensively Restored and Enhanced

As usual with Timecamera images the collection has been restored and enhanced for digital printing and it is unique in this version. The collection come with instructions and printing suggestions plus Print sales permission. See Terms of Use, deemed accepted by purchasing.


All images are the result of studio restorations which have
been digitally enhanced for Professional Print Making.


Start your own low cost business making & selling reproduction vintage prints & photos.

ALSO included on the disc are an additional thirteen rare scanned books from various scholarly libraries featuring all of the prints - and more besides - featured in this collection.

Although not the source of our High Resolution prints they do nevertheless offer a useful guide to the subjects featured here.

They also provide a rich source for further illustrations if you have the software to extract them, although not to the same high standard (note these are antique books showing natural signs of age).

The books can be read using the Adobe Reader programme which is usually pre-installed or can be downloaded free from the internet.



Sales Terms / How To Order

Print sellers please see General Info & our Terms of Use

Disc:- £12.50 (US$15.00 approx)



PAYMENT:- Instant & secure via Paypal or use a Card.
SHIPPING: Shipping & handling is now free worldwide.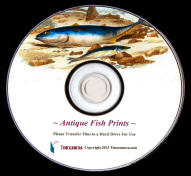 Antique Fish Prints on DISC...



Download £8.50

Ideal for overseas or busy customers, the Download option is now £8.50 inc. A secure Link for downloading
the zipped file/s will be sent to you same day. Click Button Below to save time/money (Paypal or Credit/Debit Card)...
Sales Terms

1. In common with other graphic image publishers we are not able to offer sale or return facilities.
2. The contents of each CD/DVD are detailed throughout the site and each contains the numbers of images shown included for each subject but this may not equate with a full disc capacity.
3. Customer details are kept confidential and privacy is respected. Please advise at time of ordering if you do not wish to receive details of similar compilations if they become available.
4. Purchasers agree not to misrepresent reproduction prints or photos as Originals, either deliberately or by simple omission, and absolve Timecamera.com of any liability arising thereby.
5. We reserve the right of refusal to supply and/or to change prices without prior notice.
6. Purchasers may not copy or distribute the images or CDs/DVDs, agree to read the Terms of Use and by placing an order are deemed to have accepted them and agree to abide by them.
7. A purchase is for the supply of goods only and does not include the right implied or otherwise to business and/or marketing advice and should any be offered it shall be in good faith only.
8. Images should be transferred to a hard drive immediately upon receipt. Any disc found to be faulty at that time will be replaced but we cannot be held liable for any mechanical fault, damage or loss arising from the use of the media or for its long term viability.
9. Note the return provisions of the Distance Selling Regulations do not apply to CDs, or DVDs of image software.
10. We advise all images should be transferred to a hard drive upon receipt and the disc should be kept as a back-up.
11. Sales are for the use of the images and in accordance with 10 above please note that packaging and labelling is kept to minimum cost to help maintain the current low pricing levels.
---

Special Wholesale Discounts
This Month for Five or More Titles. Click Here


---
---
C. & M.A. Smith -
Timecamera.com
Timecamera.co.uk
PrintnSell.com
Collectaprint.co.uk
e-mail info@timecamera.com
---
© Copyright 2017 C.& M.A.Smith/Timecamera. All prints and photographs featured on this site are the result of extensive restoration work and are protected Internationally under strict Copyright Law. No images or written text shall be reproduced without our express written permission. Sales are offered on the basis that the images shall not be misrepresented or sold onwards as originals.