130+ RESTORED CURRIER & IVES
HORSE RACING LITHOGRAPHS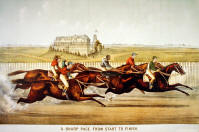 BIG 10x7's to Print, Frame & Sell Yourself!
THIS is a unique to Timecamera.com must-have image collection on disc or download enabling you to print and sell your own authentic looking repro prints of famous Currier & Ives HORSERACING & TROTTING LITHOGRAPHS from the 1800's.

This truly bargain priced computer DVD features a hand-picked collection of 130 rare and fascinating period colour images (in minimum compression .jpg format for any system) already restored and supplied ready-sized for immediate printing. They look especially great when framed and matted and have proven to be ready sellers to a host of different customer bases.
The file sizes are large for creating very saleable prints - at a minimum several hundred K, up to over 3mb - and the prints look stunning when framed. Click Here for a reduced size example. (lower resolution to load faster on the internet).

All You Need Is A Photo Quality Inkjet Printer!

| | |
| --- | --- |
| We have done all the long hours of studio work for you by retouching and optimising these antique images specially for computer printing and have converted them into large digital files for you to create and frame your own beautiful, authentic-looking Prints directly from any standard photo quality inkjet or other graphics capable Printer. See link for size info. | Order Below |
Plenty of scope for Print retailing (and wholesaling too) without the copyright problems associated with low quality, quantity-based collections of un-restored images. Note: DVD-compatible drive required.


In addition to the prints, you also receive these Bonuses:

1. An additional selection of related ephemera to print/sell too. File sizes up to 8mb.



2. Book scans - 'Pictorial Album of Celebrated Running Horses' (late 1800s) plus 'The Pictorial Gallery of English Race Horses' c1850 with engravings of Derby, Oaks and St Leger winners. Rare books to enjoy on a computer using Adobe Reader.
| | | |
| --- | --- | --- |
| Sponsored Link. Collectaprint Antique Book Scans | | Terms Of Use:- Please review the Terms of Use plus General Info, by clicking on the link. |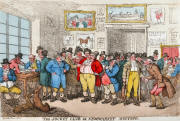 Jockey Club Meeting, Newmarket, c1800's
A Quality Difference

A GREAT deal of studio work has gone into restoring and enhancing these quality lithographs for creating & selling commercial size prints. Not to be confused with standard low-resolution, un-restored image compilations with their copyright issues. There's a world of difference!

* Business Packages...
THIS image collection on CD can be bought alone or you can go the whole hog with a Complete Business Package comprising your choice of 5 or more mixed subject collections at a big wholesale discount for making

thousands of authentic looking prints full-time.The special wholesale packages include our 22-page 'Start-Up Manual' on disc to help launch your business plus a choice of several valuable Free Gift image collections too.
Details Here / Prices Here

---
See Also Racetrack
Photo Panoramas