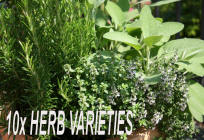 THE BIG HERB SEEDS COLLECTION

10 Variety Packs of Fresh Herb Seeds
A wide variety collection of fresh Herb Seeds for growing on window sills, poly tunnels, greenhouses, conservatories, patios or balconies. Herbs can be grown outdoors or as houseplants all year!
Included are… Tarragon Russian, Mint, Fennel, Thyme, Chervil, Coriander, Dill,
Basil, Chives and Marjoram
Seed orders are manually packed and posted. All collections are hand-packed to ensure you receive only fresh seeds by sprinkling into each packet. Minimum of 20 seeds each, often more. Postage is via Royal Mail and dispatch is within one working day.


Sorry, Seeds Offers are to UK only..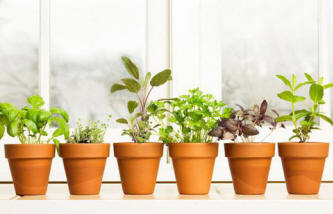 Herb Seeds Collection:-
Only £2.95 Post Free UK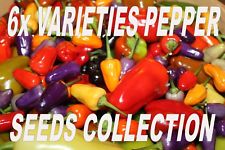 GROW PEPPERS & CHILLIS
AT HOME, YEAR ROUND...

WE have put together an exciting hot
and sweet collection of popular packets
of fresh Peppers & Chilli Seeds for
growing on windowsills, polytunnels, greenhouses, conservatories, patios, gardens, or balconies. There are
3x Hot & 3x Sweet varieties included.
Not only are these great to eat, for cooking,
sauces etc, but they form an attractive focal
and talking point too with their unusual fruits.
Included together for one all-in price
in this Bargain Bundle are…
1. Chilli Cayenne (Hot)
2. California Wonder (Sweet)
3. Jalapeno (Hot)
4. Marconi Red (Sweet)
5. Sweet Banana (Sweet) and...
6. The famous Peter Pepper (Chilli Willy) suggestively-shaped variety (Very Hot).
Seed orders are manually packed and
posted. Minimum of 10 seed each variety. Postage is via Royal Mail, dispatch is
within one working day.
Pepper Seeds Deal:-

Only £2.95 Post Free UK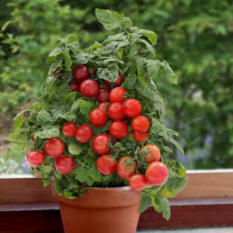 BUMPER CHERRY TOMATO
CROPS ALL YEAR ROUND!
THIS multi-package deal includes SIX different varieties of red cherry tomatoes, all expertly selected to produce year round crops in only a limited space, including the most popular and dwarf types – and all at an unbeatable price!
Each pack includes 20 seeds from each of the
following SIX varieties (120 Seeds Total):-
1. Dwarf Rotkappchen. Compact dwarf variety perfect for smaller spaces.
Also known as "Red Riding Hood". The bush plants will reach no more
than 55cm in height.
2. Italian Cherry Tomato Cerise.A great new cherry variety certain to delight producing heavy crops of small bite sized fruits with a delicious sweet.
3. Cherry Roma.Very vigorous variety producing an abundance of 1-2″ plum-cherry fruits bursting with sweet flavour.
4. Dwarf Variety Red Robin. The perfect miniature bush tomato. It can be cultivated in the smallest of spaces reaching only 30cm high with small sweet fruits of excellent flavour.
5. Dwarf Variety Window Box Red. Perfect for smaller spaces this compact variety delivers a heavy crop of sweet bright red cherry tomatoes on plants that will not exceed 24 Inches height and diameter.
6. Riesentraube Cherry. Popular old German Heirloom variety producing multiple clusters of 20-40 scarlet red one ounce sweet grape like cherry tomatoes on large and vigorous plants with many branches. Very productive.
Tomato Seeds Pack:-
Only £3.50 Post Free UK