225x RARE ANTIQUE
10x8" SCENERY PRINTS, LITHOS
& PAINTINGS!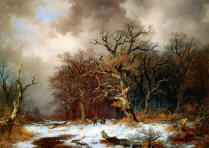 THIS is a must have image collection of attractive restorations exclusive to Timecamera.com, enabling you to Print, Frame and Sell for cash a wide range of 1800's Scenic or Landscape Colour Lithographs and other types of prints from famous publishers of the day, such as Currier & Ives and others.
This bargain priced images DVD-Rom now features a great hand-picked collection of 225 rare and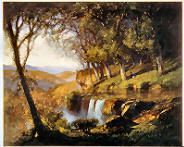 beautiful antique scenes (in minimal compression .jpg format for any system) already re-touched and made ready-sized for immediate printing with an inkjet or similar Printer on a wide range of standard or fancy style computer printer papers. The file sizes are large, averaging upwards pf over 2mb for creating authentic looking prints which are stunning either by themselves or in 8x10inch or 9x12inch frames. Several of the supplied files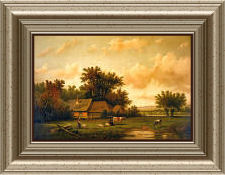 are high resolution, 300-400dpi - and suitable for larger prints if desired. CLICK HERE FOR ANOTHER REDUCED EXAMPLE (LOWER SIZE & RESOLUTION TO LOAD FASTER).
ALL YOU NEED IS A STANDARD PHOTO QUALITY PRINTER!
We have done all the long hours of work for you by retouching and optimising these antique images specially for printing and have converted them into large image files for you to create (and perhaps also frame as per the example on the left) your own Beautiful Prints directly from our specially enhanced master images and a photo quality printer. Plenty of scope for Print retailing - without the copyright problems associated with other image collections. Most supplied images are 10x7inch in size, some a little smaller. Very popular sellers.


A Quality Difference

A GREAT deal of studio work has gone into restoring and enhancing these quality lithos for creating & selling authentic looking prints. Not to be confused with standard low-res, small and un-restored image sets with all their hidden copyright issues.


THE LEGAL STUFF: Please be sure to review the Terms of Use of this and our other business compilation discs plus general info by clicking on link above.

THIS collection can be bought alone or you can go the whole hog with a Complete Business Package comprising your choice of 5 or more mixed image collections at a big wholesale discount for making thousands of authentic looking prints

full-time.
The special wholesale package now also includes free our 22-page 'Start Up Manual' on disc to help launch your business plus valuable Free image collections, software and much more.


Details Here / Prices Here