250+ SUPERB ANTIQUE PHOTOS & RESTORED PANORAMAS ON DISC
PRINT, frame and sell authentic looking repro vintage street scene photoprints from 100 years ago! Our bargain-priced Computer Image Data DVD (and Download) contains 250 (PLUS the extra Bonus Images below) beautiful period images, already painstakingly re-touched and restored from rare antique originals and brought together on this great money-making disk specially for the purpose of making prints using standard inkjet printers (each purchase includes full Print-selling permission, see Terms of Use).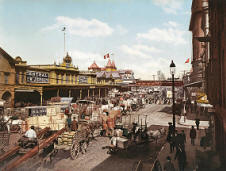 The contents of this hot favourite collection include:-
1. Over 90 full-size - up to 35in wide - fully restored photo Panoramas (read how to print them Here) showing fascinating scenes from busy early American intersections, including the people, the horse drawn transportation and everyday life as it was 100 years ago.
2. Some 160 rare Photos (standard and photochrom types, approx 8x10in) in both colour and black and white/sepia showing typical everyday street life including the people and the traders and providing a nostalgic glimpse of life as it was in the early 20th century. The photos include Tiff format images up to 450psi!
PLUS see the added Free Bonus detailed below!
All You Need Is A Standard Photo Quality Inkjet Printer!
The image file sizes are large, ranging up to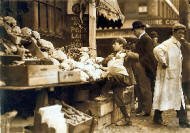 over 7mb each, and the DVD contains minimally compressed .jpg images suitable for all computer systems. We have done all the long hours of work for you by retouching and optimising these superb antique images specially for you to create and frame your own Beautiful commercial size Prints directly from a standard inkjet or graphics Printer. Plenty of scope for Print retailing without the usual copyright problems. Order now.
JUST one print sale quickly recoups this collection's very modest cost - so Go For It now while the big Bonus Image folder is also included and start making easy money from home using your computer's inkjet printer!


Banana Cart c1902

REAL OR REPRODUCTION?

MANY studio hours have gone into Restoring and Enhancing these large file size images specially for making authentic looking commercial 10x8in. prints on standard photo quality Computer Printers.
Not to be confused with amateur compilations of small, un-restored images with their usual copyright issues.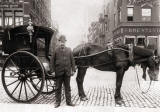 Hanson Driver N.Y. c1896

THE LEGAL STUFF: Please be sure to review the Terms of Use of this and our other business compilation DVD's, plus general info. Click on the link above.



EXTRA #2 -This month we are also including a fantastic Free Bonus of an additional collection of 60 rare restored antique photochrom scenes depicting various locations around the States at the turn of the last century!