Just expanded to
300+ Antique Prints
PRINT, frame and sell your own authentic-looking repros of ANTIQUE JAPANESE PRINTS from the 19th Century. This exclusive to

Timecamera.com
DVD-Rom (or download) now contains over 300 beautiful ready-sized period woodblock images, already restored and perfect for printing and framing using standard computer equipment, along with any photo quality printer, such as a standard inkjet .
All You Need Is A Photo Quality Printer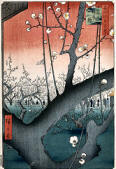 The file sizes are large - averaging several hundred K each - and the disc contains a mixture of 300+ attractive minimally compressed .jpg colour of various resolutions and suitable for all photo quality inkjet or similar type A4 home Printers (print sizes up to 10x8inches). See examples at top of the page of the many artists included in this special low cost collection of attractive images.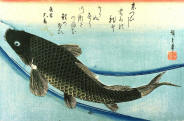 We have done all the long hours of work for you by retouching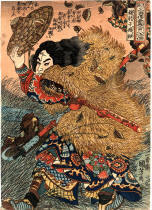 and optimising these antique images specially for home inkjet printers and have converted them into large digital files for you to create and frame your own beautiful and authentic looking Prints. Plenty of scope for Print sales - or a great buy for collectors and interior designers too. Instructions are included on the disc.
Terms of Use The Legal Stuff: Please review the full Terms of Use of this and our other vintage image collections, plus general info, by clicking on the link above. Terms are deemed accepted by making a purchase.


ALSO INCLUDED for interest/research use are free scans of eight antique books on the subjects of Japanese Prints and design. We have converted them into .pdf format used by Adobe Reader - standard on most computers. Included are: 'A History of Japanese Colour Prints' c1910; 'Japanese Prints' c1918; 'The Color Prints of Old Japan' c1901; 'Chats on Japanese Prints'; 'The Colour Prints of Japan' c1901 plus three others. Order now!


A Quality Difference
A GREAT deal of studio work has gone into restoring and enhancing these quality lithos for creating & selling commercial size prints.
Not to be confused with quantity-based low-res, un-restored image CDs with all their copyright question.


THIS item can be bought alone or you can go the whole hog with a

Complete Business Package comprising your choice of 5, 12 or more mixed subject collections at big wholesale discounts for making thousands of authentic looking prints full-time.
The special wholesale packages now include our 22-page 'Start-Up Manual' on disc to help launch your business quickly plus several valuable Free Gift collections too.
Details Here / Prices Here
Aimed at Large Format Printers! Details Below:-
OUR new expansion DVD disc is offered as an optional extra collection, containing 101 larger-than-A4 prints and including Print Sales Permission (see the usual Terms of Use).
Sizes range from approx 8 x 12 in. up to a massive 30 inches while also retaining a high resolution at 300-500 dpi. All are also uniquely restored and enhanced for digital printing as with our main collection (which incidentally has just been expanded by an extra 50 prints).
They are perfect for owners of large format printers but can also be reduced in size if desired. Naturally they do require additional memory and graphics handling capabilities due to larger than average file size of up to 40mb each.
The collection can be bought separately at an introductory price of only £9.00 inclusive - less than the price of your first print sale - or together with the main collection for a bargain price.
Choose a payment option below for buying the Expansion Collection with or without the main collection, or just go opposite to buy the main collection by itself.
By Downloads...
Expansion
Collection
Only £6.50


Expansion Plus Main
Set Only £12